REPRESENTING NEW ZEALAND MUSHROOM GROWERS
nationalities represented
Why do you never see a wide open field of mushrooms?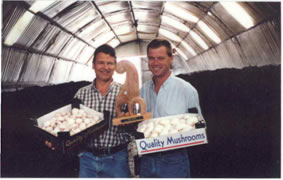 Quality Mushrooms
Ohaupo, Waikato
Quality Mushrooms operate a mushroom farm located on Ranby Road, Ohaupo, producing approximately 6-7.5 tonnes of mushrooms per week. The company started in 1988 with four sheds, and has gone through stages of development.
Quality Mushrooms produce their own compost from a combination of chicken manure, straw and water. Leachwater from the compost is recycled through two underground water tanks prior to reuse on the compost.
Odour emissions from the composting activities are directed through a bio-filter medium. (Consisting of a natural mixture of waste compost and clean bark fibre that neutralises the emission by a biochemical reaction) which was initially constructed in 1991, and was replaced with an improved version in 1996. Quality Mushroom's usage of the bio-filter medium was the first in relation to mushroom farms in New Zealand. The final compost product is then utilised to grow the mushrooms in 8 separate sheds. All spent compost (approximately 60 m3 per week) is sold to local garden nurseries for mulching and general soil improvement purposes.
Out of the Dark Mushrooms
South Auckland, Auckland
At Out of the Dark Mushrooms we grow and distribute exotic mushrooms to many of New Zealand's finest restaurants. We are located in South Auckland, and specialize in growing Shiitake, Oyster and Enoki mushrooms. We also supply some wholesalers and have now launched a new brand "Exotics By South" which will be available in selected supermarkets from early 2019. Our strategy is simple – grow the best quality product, pick it early each day and deliver it immediately.
Contact details:
Phone 021 255 6340
Email [email protected]
Mercer Mushrooms
Mercer, Waikato
On the southern slopes of the Bombay Hills adjacent to the Waikato River, in picturesque Pukekawa, sits the Mercer Mushrooms farm. At Mercer Mushrooms we are renowned for the Bombay Button – which we sustainably grow all year round, pick fresh and deliver daily to your local store. Whether you sauté mushrooms, add them to your cooking or slice them raw into salads we know that you will be creating nothing but the most delicious healthy meals with Mercer Mushrooms.
Ora's Farm
Mangawhai, Northland
Ora's Farm was born when a teacher and naval architect put down their pens and picked up their shovels. Working with nature had always been a dream, but that didn't make giving up both stable careers any easier.
Ora's Farm is a New Zealand grower of Oyster and Shiitake Mushrooms and in the last couple of years they have introduced four new varieties of mushrooms; Pink oyster, Lion's mane, Pioppino, Turkey tail and Enoki.
In addition Ora's Farm produces a range of flavoursome umami stock and mushroom seasoning powders.
Ora and Itay's commitment to creating a sustainable, ethical, and honest business, growing 100% natural mushrooms has kept Ora's Farm busy engineering and learning on both the technological and personal fronts to keep their mushrooms, and business, growing healthily. It is important that Ora's Farm production does not negatively impact the environment. All Ora's Farm products are packaged in recycled paper or cardboard, and used mushroom-substrate bags are recycled by our customers in their gardens.
Phone 021 1099276