REPRESENTING THE MUSHROOM GROWERS OF NEW ZEALAND
nationalities represented
Why do you never see a wide open field of mushrooms?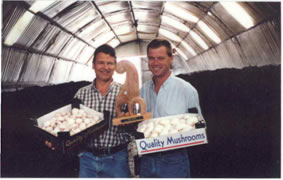 Quality Mushrooms
Ohaupo, Waikato
Quality Mushrooms operate a mushroom farm located on Ranby Road, Ohaupo, producing approximately 6-7.5 tonnes of mushrooms per week. The company started in 1988 with four sheds, and has gone through stages of development.
Quality Mushrooms produce their own compost from a combination of chicken manure, straw and water. Leachwater from the compost is recycled through two underground water tanks prior to reuse on the compost.
Odour emissions from the composting activities are directed through a bio-filter medium. (Consisting of a natural mixture of waste compost and clean bark fibre that neutralises the emission by a biochemical reaction) which was initially constructed in 1991, and was replaced with an improved version in 1996. Quality Mushroom's usage of the bio-filter medium was the first in relation to mushroom farms in New Zealand. The final compost product is then utilised to grow the mushrooms in 8 separate sheds. All spent compost (approximately 60 m3 per week) is sold to local garden nurseries for mulching and general soil improvement purposes.
Te Mata Mushrooms
Havelock North, Hawkes Bay
Situated on the outskirts of Havelock North in Hawkes' Bay, The Te Mata Mushroom Company is New Zealand's second largest mushroom farm. Established in 1967, the business was purchased in 2012 by local businessman Michael Whittaker. However, the farm is still managed by Martin Speeden – the son of one of the original founding families.
The farm currently produces 20-24 tonnes of mushrooms per week, a mix of white button, portobello and New Zealand's only Vitamin D mushrooms. Product is sold throughout the North Island and The Te Mata Mushroom Company also runs a very popular farm shop, participates in local farmers markets and provides tours through the facility.
Out of the Dark Mushrooms
South Auckland, Auckland
At Out of the Dark Mushrooms we grow and distribute exotic mushrooms to many of New Zealand's finest restaurants. We are located in South Auckland, and specialize in growing Shiitake, Oyster and Enoki mushrooms. We also supply some wholesalers and have now launched a new brand "Exotics By South" which will be available in selected supermarkets from early 2019. Our strategy is simple – grow the best quality product, pick it early each day and deliver it immediately.
Contact details:
Phone 021 255 6340
Email info@ootd.nz
Mercer Mushrooms
Mercer, Waikato
On the southern slopes of the Bombay Hills adjacent to the Waikato River, in picturesque Pukekawa, sits the Mercer Mushrooms farm. At Mercer Mushrooms we are renowned for the Bombay Button – which we sustainably grow all year round, pick fresh and deliver daily to your local store. Whether you sauté mushrooms, add them to your cooking or slice them raw into salads we know that you will be creating nothing but the most delicious healthy meals with Mercer Mushrooms.
Parkvale Mushrooms
Parkvale, Carterton
Parkvale Mushrooms Ltd is a family business owned and run by Clive Thompson.
Clive has been growing mushrooms for more than 40 years and has specialised in the "Gourmet Brown" mushroom for many years. This "brown" mushroom has proven to have superior flavour and texture and grown at Parkvale is unsurpassed in the market.
Whilst most vegetables and fruit; including normal mushrooms deteriorate more quickly once they reach full maturity, the Parkvale strain of "brown" mushroom can be grown to full maturity – the renowned Parkvale "FLAT" – and still keeps as well or better than other mushrooms.Although Parkvale mushrooms are generally eaten for their flavour, it is good to know that they are rich in vitamins, protein and fibre and low in calories. They're healthy!
Greendale Mushrooms
Burnham, Canterbury
Greendale Mushrooms is one of only two commercial scale mushroom farms in the South Island. 30 minutes from Christchurch city, we are situated in the heart of the Canterbury Plains, between the Southern Alps and the Pacific Ocean.
Greendale Mushrooms was established in 1997, and has been owned and operated by George Gibb since 2016. George is a born and bred Cantabrian, growing up on a sheep and beef farm, before establishing a successful career in the meat industry, which he left to take on the mushroom business.
Greendale Mushrooms produces approximately 2 tonnes of white button mushrooms per week from climate controlled growing rooms in a purpose-built growing facility. We make all our own compost on site, wherever possible using locally sourced ingredients, in a very eco-friendly process which recycles the by-products of other industries to produce compost perfect for growing beautiful, high quality mushrooms. The mushrooms are picked, graded and packed by a wonderful team of local staff and trucked fresh daily to our sales and marketing partner in Christchurch. From there, the mushrooms are distributed to wholesalers, retailers and supermarkets throughout the South Island.
Contact details:
169 Telegraph Road
RD7
Christchurch 7677
New Zealand
Phone +64 3 325 4955